Smart Rewards
Smart Rewards Visa® Credit Card
Earn 5x The Points at The Pump*
July 1 and August 31, 2021
The Smart Rewards Card earns you points for every dollar you spend.+
Use your USSFCU Smart Rewards Visa Credit Card for day-to-day expenses, big-ticket items, and beyond. The more you spend, the more points you'll earn. When you have enough points for the reward you want, go to the rewards site, redeem and enjoy. Smart Rewards cardholders enjoy a low rate, no annual fees and the ability to earn rewards!1 Accepted worldwide, the Smart Rewards Visa® offers a number of benefits including:
No balance transfer fees2
No cash advance fees2
No annual fees2
No rate change for late payments2
No over-the-limit fees2
No rate increases on cash advances2
Advanced risk detection technology
24/7 online account management and tracking
24/7 emergency card assistance
Free auto rental collision insurance
Debt protection available
Now offering Mobile Wallet services3
Manage Your Cards From the Palm of Your Hand!
Learn how to turn cards on or off, set spending limits and get alerts with MyCardRules!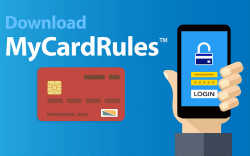 ---
NEW & IMPROVED REWARDS
Cardholders can now enjoy upgraded access to premium rewards, valuable benefits, and memorable experiences.
Redeem Points for the Rewards You Want!
Gift Cards Choose from hundreds of your favorite stores and restaurants.
Travel Rewards Flights, hotels, car rentals, cruises, vacation experiences, and more.
Cash Spend it however you want.
Merchandise Thousands of popular items to choose from.
Purchase Rebates Get reimbursed for what you've already bought.
Single Sign-on makes Accessing Rewards Easier than Ever.
Simply log-in to your CU AnyHour+ Online Banking account and click the Smart Rewards tab. You'll instantly be directed to the rewards portal, where you'll be able to view and manage your points and browse and redeem thousands of rewards.
If you experience any difficulties logging into your account, or if you need any assistance related to the Rewards program, please contact the Support Team toll-free at 855.854.5493 from 6 am to 6 pm, Monday through Friday (Pacific Time).
View our Smart Rewards brochure for complete program rules.

*Promotion valid between Thursday, July 1, 2021 (12:00am EST.) and Tuesday, August 31, 2021 (11:59pm EST). $4=5 points when you use your USSFCU Visa Debit Card on qualifying purchases and select credit instead of debit during the promotional period. Exclusions apply. Reward points are only earned on signature-based transactions. Not all transactions qualify for reward points, such as cash advances, balance transfers and PIN-based transactions. Merchants may process signature debit card transactions as PIN-based transactions even if a PIN was not provided; these transactions would not qualify. USSFCU is not responsible for the processing method selected by the merchants. Not all merchants will participate in the reward points program.
1 All loans are subject to credit approval. Rates and/or credit limits are based on creditworthiness, income and debts. 2 Other fees may apply. Foreign transaction fee is 1 percent of the transaction amount, which may be billed separately on your account or included in the transaction amount. To view our fee schedule visit ussfcu.org/fees. View the complete Smart Rewards Visa Credit Card Agreement and Disclosure for additional information.
3 Cardholder must activate each payment service before paying with their mobile device. Visit ussfcu.org/mobilewallet for more information on activation, device requirements, terms and conditions.
+ $1=1 reward point with a Visa® Smart Rewards Credit Card on signature-based transactions. Not all transactions qualify for reward points, such as cash advances, balance transfers and PIN-based transactions. Other terms and conditions may apply. Program subject to change without notice. View complete program terms and conditions in the Smart Rewards brochure.