U.S. Senate Federal Credit Union Leads 2018 Credit Union Rankings
Published: March 20, 2019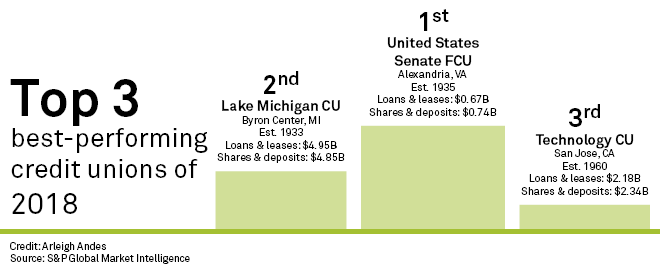 by Armughan Khawaja, Ciaralou Palicpic & Usman Pirzada | S&P Global Market Intelligence
Government worker-focused United States Senate FCU rode a surge of deposits to the No. 1 position in S&P Global Market Intelligence's 2018 ranking of the 50 top-performing U.S. credit unions.
The Alexandria, Va.-based institution, which formed in 1935 to serve employees of the U.S. Senate, posted the strongest market growth rate in the 2018 ranking, at 26.3%. Share certificates with a maturity greater than three years were a major driver of the growth in shares and deposits: they more than quadrupled to represent 18.5% of total shares and deposits. The credit union's operating expense ratio was also among the best in the group, at 53.83%.
All told, U.S. Senate FCU met or beat the top-50 median in four of the five ranking metrics; the lone exception was its net charge-off ratio, which at 0.38% was 17 basis points higher than the top-50 median.
The credit union, which ranked No. 44 in 2017, made some notable changes to its loan composition during 2018. U.S. Senate FCU saw its other unsecured loans rise to 33.30% of total loans from 8.70% a year earlier; concentration in U.S. real estate loans, meanwhile, declined to 51.8% from 70.3%.
About This Analysis
S&PGlobal Market Intelligence ranked the nation's credit unions using five core financial performance metrics: member growth, market growth, operating expense as a percentage of operating revenue, net charge-offs as a percentage of average loans and delinquent loans as a percentage of total loans. Each company's standard deviation from the industry mean was calculated for every ranking metric, equally weighted, then added together to calculate a performance score.To help normalize the data and mitigate the impact of outliers, caps and floors were applied for each metric. To be eligible for the ranking, a credit union had to report more than $500 million in total assets and a net worth ratio of at least 7.0% as of Dec. 31, 2018. Based on these criteria, 552 credit unions qualified for the ranking.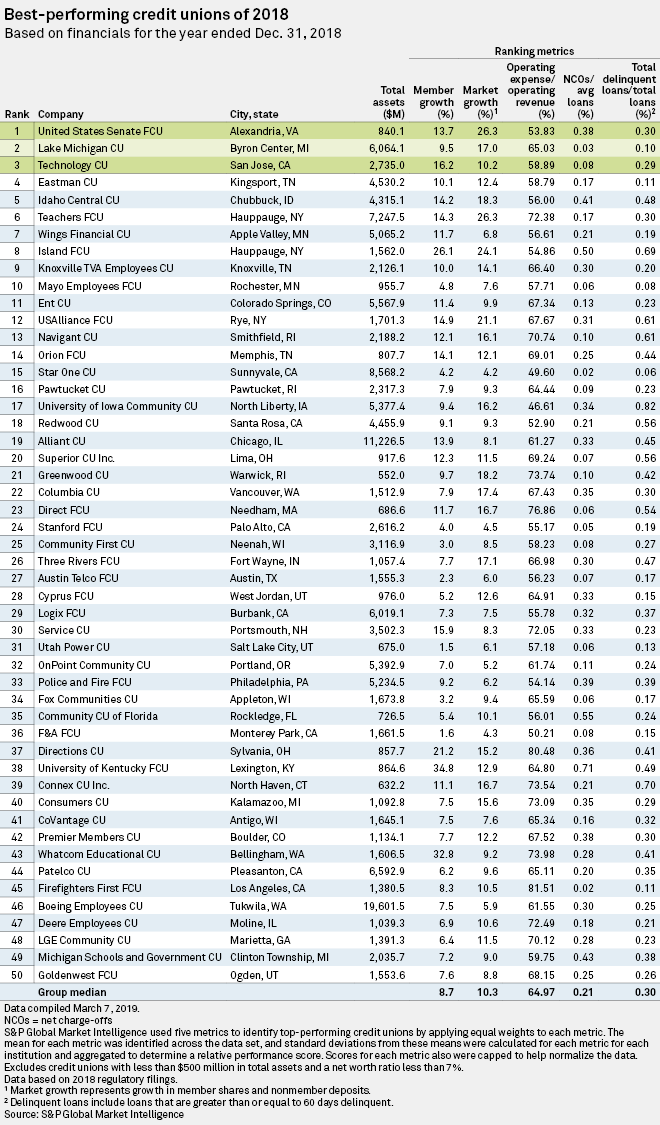 The nation's largest credit union by assets, Vienna, Va.-based Navy FCU, fell to No. 236 from No. 199 in 2017, while the second-largest credit union, Raleigh, N.C.-based State Employees' CU, rebounded to No. 142 from No. 396. Navy Federal grew its member base by 9.1% in 2018, and its 11.8% market growth was above the top-50 median of 10.3%. The credit union's operating expense ratio also improved to 49.3% in 2018 from 50.3% a year earlier.
California continued to lead the nation with eight credit unions in the top 50, although that was down from 13 in 2017. Seven states had three credit unions on the list.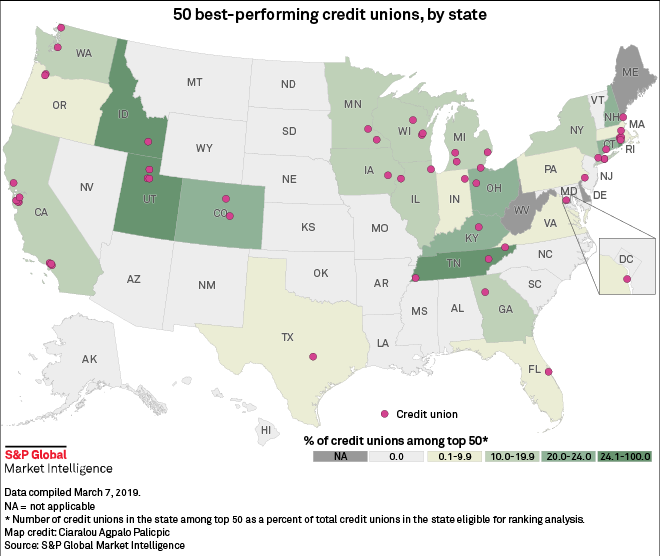 View all press releases