USSFCU Honors a Capitol Hill Legend
Published: June 6, 2019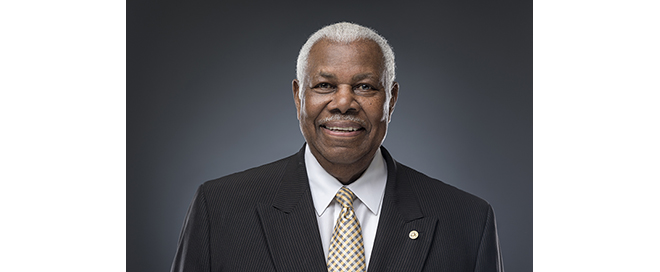 "Work hard. Be true to yourself. Take responsibility.
Have a positive outlook. Expect the best from people."
-Herbert "Bertie" Bowman
These are the beliefs that Bertie Bowman lives by and the values that have served him well throughout his life and career.
Arriving in the nation's capital in 1944, Bertie Bowman is the longest-serving African-American staff member on Capitol Hill. From sweeping the steps to working in the coffee shop and the Capitol barbershop—Bowman held several jobs in the Senate, ultimately rising to become assistant hearing coordinator for the U.S. Senate's Foreign Relations Committee, one of the most powerful committees in Congress.
Herbert "Bertie" Bowman was born in the small town of Summerton, South Carolina, in 1931. His precise birth date uncertain, Bowman believes he was born April 12, 1931.
A 12-year-old Bowman met Senator Burnet R. Maybank, while he was campaigning for re-election outside a local store. Maybank addressed the crowd as he was leaving and said "if you're ever in Washington to come by and see me". Bowman said, 'If I come to Washington, D.C., can I come by and see you?' The Senator replied "yes" and a year later Mr. Bowman left home and went to Washington.
"When I got to the Union Station, man, I thought that Union Station was Washington.
All those lights. I'd never seen that many lights before."
Leaving Union Station, Bowman saw the Capitol and recalled the Senators words. Far from home, with few resources, Bowman recalls the considerable amount of assistance, and kindness he received from DC workers and those passing by.
After spending several nights on the benches of Union Station, Bowman succeeded in finding the Senator, who quickly arranged Bowman's first job in Washington—sweeping the steps of the U.S. Capitol. It was only later that Bowman learned the job had been an unofficial one, Maybank paid Bowman's salary out of his own pocket.
For sixty years, Bertie Bowman witnessed history in the making: the death of FDR, World War II, Brown vs. Board of Education, the Civil Rights movement, Vietnam, and Watergate. A recipient of unconditional kindness, he formed many enduring friendships during his career on Capitol Hill. Former President Barack Obama, with whom he worked on the Foreign Relations Committee for three years. Former President Bill Clinton worked for Bowman as a messenger for the committee when he was a junior at Georgetown University. Secretaries of State Hillary Clinton and John Kerry also worked closely with Bowman as did Vice President Joe Biden. And many other notable leaders on Capitol Hill.
By the mid-1950s Bowman had established himself as a jack-of-all-trades around the Capitol. With each step, Bowman's can-do attitude turned him in to a mentor, advocate, community leader and even published author. His autobiography, released in 2008, chronicles his time spent in Washington and includes a personal forward written by former President, Mr. Bill Clinton. From calling upon his time spent on the janitorial staff, to his experience coordinating with powerful committee chairmen, Mr. Bowman knows best how to utilize his depth of understanding how the Capitol Hill works and make a true difference.
"He's always making sure the ones out there getting it done are taken care of" says Denis O'Donovan, friend of Bowman and former USSFCU Board member. 'Don't forget them' Denis remembers as one of Mr. Bowman's most frequently sung phrases.
Mr. Bowman's service to the Credit Union began in 1966 as a member of the Credit Committee. Joining the Board of Directors in 1975, totaling 44 consecutive years on the Board including 2-terms as Chairman. Supporting the Credit Union for fifty-three years, Mr. Bowman's longevity of service to the institution far precedes any other person within the organization to this date.
Current USSFCU Chairman of the Board Christopher D. Shunk, reflects on Mr. Bowman's presence within the institution. A longtime colleague and friend, Shunk recalls Bowman's integrity, focus and dedication. He has always been a fighter and an advocate. Standing up for what's right and always advocating for the ones tasked to get the job done.
On May 9th of 2019, United States Senate Federal Credit Union held a ceremony in honor of Mr. Bowman to dedicate their new headquarters building in Mr. Bowman's name. The ceremony was held in the Senate Foreign Relations Committee Room at the Dirksen Senate Office Building. A very fitting setting that paid homage to the decades of service Mr. Bowman provided to the Foreign Relations Committee.
It is with full-hearts and extended gratitude that we honor Mr. Bertie Bowman for his extended service to the U.S. Senate and the United States Senate Federal Credit Union. The Credit Union would not be the institution it is today without the guidance of Mr. Bowman.
References: https://www.rollcall.com/news/bertie_bowmans_long_senate_journey-226125-1.html
According to encyclopedia.com, Bertie Bowman is the longest-serving African-American staff member on Capitol Hill.
View all press releases