USSFCU Donates $25,000 to Carpenter's Shelter
Published: December 6, 2019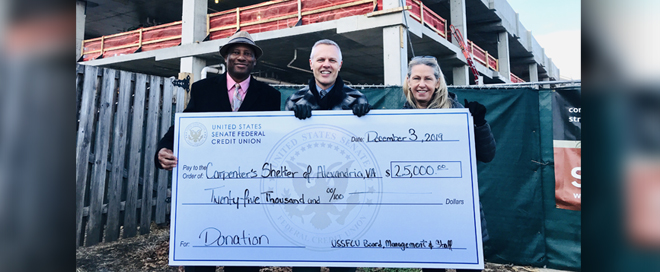 This past Giving Tuesday on December 3, 2019, U.S. Senate Federal Credit Union (USSFCU) President & CEO Tim Anderson and USSFCU Board Member Margo Rushing presented a check to Carpenter's Shelter Executive Director Shannon Steene for $25,000.
Carpenter's Shelter is a leader in finding solutions that permanently end and prevent homelessness in the greater Alexandria area for almost 40 years. They are open 365 days a year, 24 hours a day, and serve more than 625 men, women and children annually. They also offer a 60-bed emergency shelter with rigorous case management, education, employment and housing services; a day shelter (David's Place) that addresses the basic needs of chronically homeless individuals. They also run the City of Alexandria Winter Shelter from November to April; and a Community Case Management (CCM) program that continues to support clients who have graduated from the shelter for a minimum of one year. They are meeting the immediate needs of homeless individuals and families while also educating them in life skills, providing them with employment counseling, and helping them transition into stability and self-sufficiency.
Carpenter's Shelter's original facility on N. Henry is being replaced with a new facility that will completely transform how they are able to care for the underserved and homeless in Alexandria. The 60-bed, purpose-built homeless shelter and administrative offices for Carpenter's Shelter will be on the first floor of the building. In partnership with the Alexandria Housing Development Corporation (AHDC), the floors above will offer 87 affordable apartments and reserve 10 permanent supportive housing units for chronically homeless adults. The apartments will range in size from studios to three-bedroom units and be available for those making 40-60% of the area median income.
USSFCU's continued support for Carpenter's Shelter will help Shannon and his team continue to provide innovative new programs, partnerships, and interventions that will help end homelessness in the Alexandria community.
View all press releases