Bertie Bowman Inducted into the African-American Credit Union Coalition Hall of Fame
Published: February 6, 2020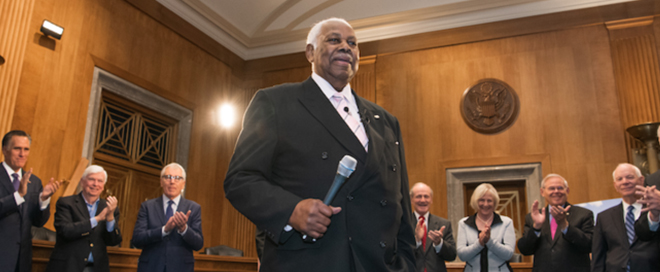 Washington, D.C. – The African-American Credit Union Coalition (AACUC), will be inducting three credit union leaders into its Hall of Fame during an induction reception at the Credit Union National Association Governmental Affairs Conference (CUNA GAC) in Washington DC, Tuesday, February 25.
Among the three inductees is USSFCU Board of Directors member Herbert "Bertie" Bowman.
Arriving in the nation's capital in 1944, Herbert "Bertie" Bowman is the longest-serving African-American staff member on Capitol Hill. From sweeping the steps to working in the coffee shop and the Capitol barbershop—Bowman held several jobs in the Senate, ultimately rising to become the assistant hearing coordinator for the U.S. Senate's Foreign Relations Committee, one of the most powerful committees in Congress. He has been a board volunteer at United States Senate Federal Credit Union since 1975.
"We are very proud of Bertie here at our credit union, and elated that other credit union professionals and organizations want to recognize his contributions as a titan in our industry," said Timothy Anderson USSFCU President and CEO.
Also being inducted are Dr. Willie Bryant (posthumously), and Mike Mercer. Bryant was a civil rights activist and volunteer at Rockland Employees Federal Credit Union for over 20 years. He was also a founding member of the AACUC and the first Chairman of the Reaching Toward the Future Internship Program.
Mercer recently retired as the CEO of the League of Southeastern Credit Unions & Affiliates. In this capacity, he was responsible for providing leadership for trade association services across a three-state footprint to include Alabama, Florida and Georgia. Mercer represented the interests of credit unions in numerous ways for almost four decades.
The Induction will be held at the Marriott Marquis in Downtown, Washington DC during the AACUC Networking Meeting Reception.
About the African American Credit Union Hall of Fame History
On October 16, 2008, the AACUC unveiled an exhibit featuring African Americans in the credit union movement the first 100 years at the America's Credit Union Museum in Manchester, N.H. Continuing with that effort, the Funding Development Committee created the African American Credit Union Hall of Fame. This virtual hall of fame was created to accomplish two goals: One, to honor and recognize African Americans who have and are contributing to the credit union movement--many who are unsung heroes and trailblazers. To be inducted you must have accomplished or achieved the following: 1) provided in excess of 10 years of service in the credit union industry; 2) worked to provide financial services for people in general; and 3) identify at least four significant accomplishments, which benefited African-Americans' access to financial capital. Learn more about the AACUC on their website at aacuc.org.
View all press releases