Recognizing Alexandria Police Officers on National Peace Officers Memorial Day
Published: May 15, 2020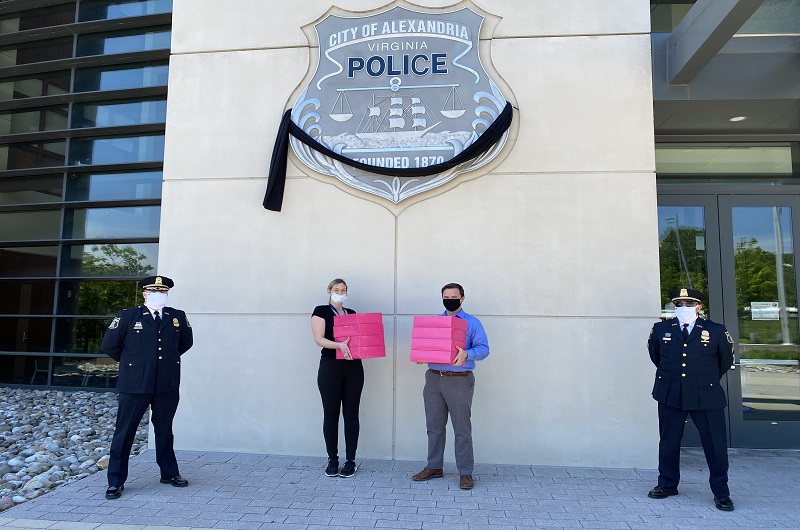 Alexandria, VA – In effort to say 'Thank You!' to local law enforcement, U.S. Senate Federal Credit Union drops by the City of Alexandria Police Department, Friday, May 15, to deliver eight dozen cupcakes from local bakery Small Cakes.
In 1962, President Kennedy proclaimed May 15 as National Peace Officers Memorial Day and the calendar week in which May 15 falls, as National Police Week to remember and honor law enforcement officers for their service and sacrifices.
The men and women who protect our communities each day have not just devoted their lives to public service, they've taken an oath to give their lives in order to ensure our safety. And they are currently doing so in the face of an unprecedented global health pandemic.
As many police week activities were canceled due to Covid-19, it's important we still find a way to pay tribute to the men and women who serve the residents, visitors and businesses in our City. Through affiliation with the Alexandria Police Association, USSFCU provides financial services to many of Alexandria's officers. While it is sad that we cannot come together this year to honor our officers, their devotion and personal sacrifice will not be taken for granted.
"This year we are making special efforts to express how truly grateful we are for the sacrifices everyone in law enforcement is making during these trying times. Whether they serve behind the scenes, on the front line or are retired, they keep us safe and we need that now more than ever." — Arthur Green, USSFCU's Vice President of Marketing.
About the Alexandria Police Department
The mission of the Alexandria Police Department is to provide competent, courteous, professional and community-oriented police services. Alexandria maintains a modern, highly trained, technically skilled, energetic, diverse and well-equipped police department, with a current authorized strength of 320 sworn and 138 civilian employees. Learn more at www.alexandriava.gov/Police.
About USSFCU
For 85 years, USSFCU has provided the U.S. Senate and Capitol Hill communities with world-class financial stability, security and service. Now with 100 plus paths to membership, almost anyone has the opportunity to experience the USSFCU difference. Learn more at www.ussfcu.org.
View all press releases