USSFCU Sponsors a Day at the Washington Auto Show
Published: January 31, 2020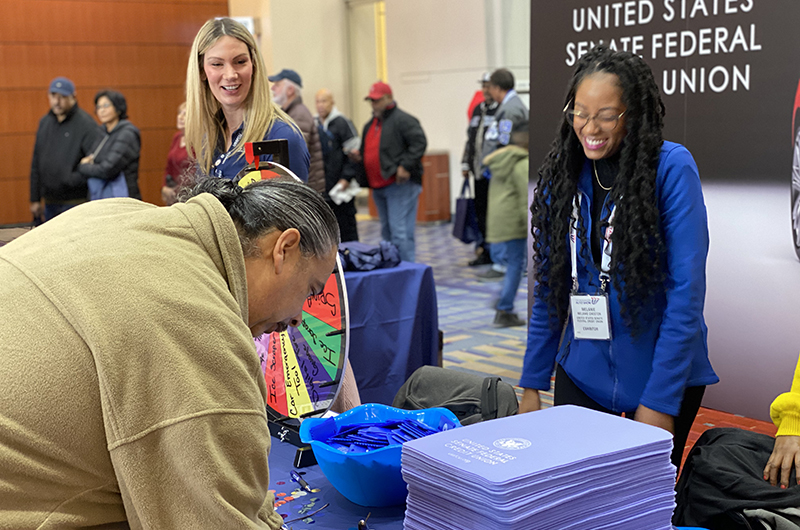 USSFCU Sponsors Public Service Recognition Day at 2020 the Washington Auto Show.
Wednesday, January 29 stands as the Washington Auto Show's first-ever Public Service Recognition Day. A USSFCU led initiative; Public Service Recognition Day is a way for the Credit Union to acknowledge the many Federal, State & Local employee & First Responder groups we serve in the D.C. metro area with discounted admission to the show.
The renowned Washington Auto Show held January 24 – February 2 at the Washington Convention Center is known for being one of the largest in the nation. The ten-day-long show spans three floors and showcases vehicles of all types. Public Service Recognition Day, held Wednesday, was sponsored by U.S. Senate Federal Credit Union. Credit Union representatives stood at the entrance of it all greeting attendees, distributing auto swag and talking about USSFCU auto loan services.
Also promoted, in conjunction with the show is USSFCU's Drive to Win auto promotion. Continuing through February 29, 2020, any member who opens a new or used auto loan, or refinances a current auto loan from another institution is entered to win $2,500!
If you were not able to visit us at this years show you can learn more about our Drive to Win promotion on our website at ussfcu.org/drivetowin, by visiting a USSFCU branch or by calling Member Services at 800.374.2758.
View all posts