Expert Speakers Join USSFCU Member Webinar
Published: September 30, 2020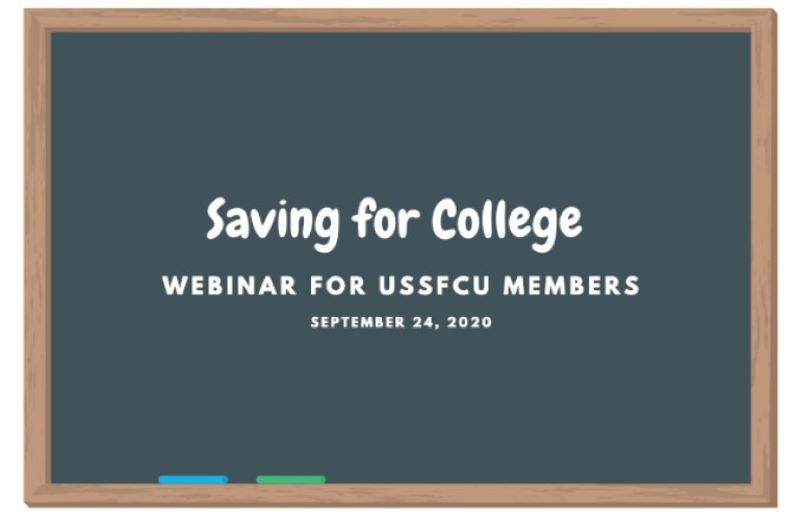 Saving for College - A USSFCU Member Webinar
Coverdell Education Savings Accounts, 529 plans, primary savings, Roth IRAs, … with so many options available it can be hard to decide what's the best college savings path for your family. In effort to bring clarity to a seemingly complicated subject, USSFCU hosts a special member webinar featuring education finance experts and saving advocates John Hupalo and Patricia Roberts.
College Savings Month 2020, USSFCU members joined live as John Hupalo, Founder of MyCollegeCorner.com and author of Plan & Finance Your Family's College Dreams provided a break-down of each college savings option and the benefits and drawbacks of each.
Patricia Roberts, Chief Operating Officer at Gift of College was also in attendance. Patricia explained the concept of crowdfunding as a method of funding the college experience. Crowdfunding has become increasingly popular way to build college savings, and along with it so has giftofcollege.com. Essentially, Gift of College© is a gift card that can be applied to any 529 college savings account or used towards paying down existing student loan debt.
Access a recording of the webinar here and read on for tips on how crowdfunding makes planning for college a family affair.
5 Ways to Get Your Family Involved in The College Saving Process
Attending college immediately following high school graduation is a trend that has been continually on the rise for the last few decades. Today, more than 20 million students enroll in college immediately following high school and more than half of them are female.
With this increase in students going to school, there is an increase in student loan debt too. Student loan debt has long surpassed consumer credit card debt and has surpassed $1 trillion nationally. With student loan debt turning into a national issue that affects our economy, planning for how to save and pay for college is a task that families need to discuss long before children reach high school.
Saving for college isn't just something parents should concern themselves with – kids and other family members can help contribute to a college fund for your child too. Read our tips for how to make planning for college a family affair:
Treat Saving for College Like a Bill
Make sure you prioritize saving for college by treating your savings account like a bill that needs to be paid regularly. This is a common personal finance tip, too. If you opened a 529 college savings plan for your children, many employers now allow automatic payroll deductions to go straight to the account, automating savings for you.
Teach Your Child About Saving Early
Many people often say that they wished they learned more about money when they were kids. Now is a perfect opportunity to help your child understand the financial implication that their college education will have on them. Start teaching your kids early about savings with clear jars. As soon as they earn allowance money for doing chores or are given a gift of money by family members, label two jars "Spend" and "Save" and teach them how to allocate that money. The clear jars will give them the visual joy of seeing their money grow in their savings.
When your children get older and take on a part-time job for cash, keep the same savings principle in mind, and have them start to contribute to their 529 plan or other college savings plan. Make a point to sit down together regularly to check out how much money is in their account. Being aware of how much money is available to your child when it comes time to choose a college will help them make smarter college and financial decisions.
Financial Literacy Resources for Families
With most schools going virtual for the foreseeable future, families are looking for ways to keep their children educationally engaged. Here are some ideas for educational games and lessons to help children of all ages begin exploring the benchmarks of financial literacy such as earning, saving, and investing to help them develop valuable problem-solving skills.
Turn Gifts into Savings
When birthdays and other gift-giving holidays roll around, use social savings platforms like Gift of College to help build your child's college fund. Gift of College is a gift registry that allows friends and family to give money to your child's college fund or to pay off student loans. Your children will be excited about building their college fund and your friends and family will be excited to give a gift that has long-lasting value beyond one birthday or holiday.
Seek Alternate Ways to Borrow Funds During College
Once your child is in school, federal and private scholarships aren't the only way for your family to manage college costs. Many parents end up taking out Federal Parent PLUS loans or other private loans. However, these federal and private loans aren't the only way for you to help your child cover college costs. There are many financial institutions like USSFCU that offer low-interest personal loans that can help bridge the costs not covered by federal aid and can help your child avoid taking on more student loans or racking up credit card debt.
---
College 101
USSFCU's college resource center is packed full of all things college. From savings, and grant money, to selecting a university and loan repayment strategies, you'll find what you need here.
View all posts