USSFCU Sponsors the Congressional Baseball Game
Published: August 8, 2022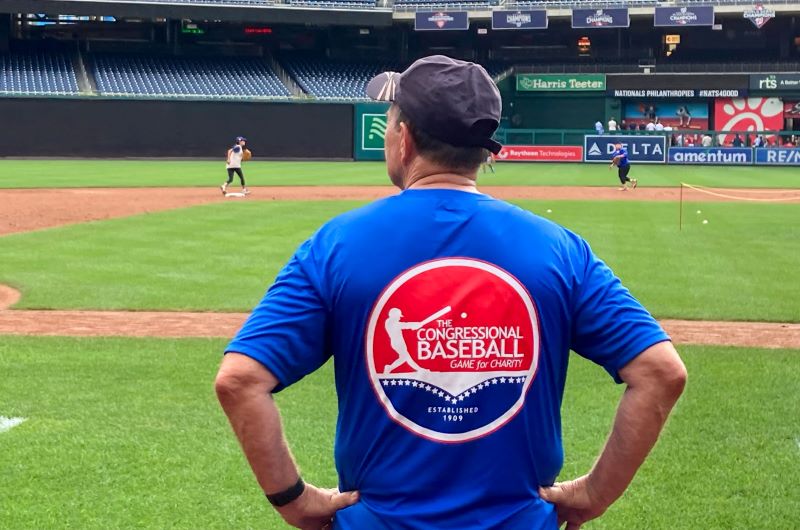 Republicans shutout Democrats 10-0 at the annual Congressional Baseball Game at Nationals Park Thursday, July 28.
Established in 1909, the Congressional Baseball Game brings Republican and Democratic members of Congress together in a show of bipartisanship to support local charities, with this year's event securing a record-high number of ticket sales and donations, raising more than $1.7 million for organizations like the Boys and Girls Clubs of Greater Washington and the Capitol Police Memorial Fund.
USSFCU: Grand Slam Sponsor
Tensions were high! The afternoon was beautiful and sunny! You could feel the intense heat, but that didn't stop our fantastic team of USSFCU volunteers and enthusiastic fans from showing up to this historic event.
The 2022 Congressional Baseball Game was one for the books! Gates opened to the public at 5:30 PM, and right of the bat (no pun intended), the massive wave of people started entering the ballpark! USSFCU made their presence known, greeting fans and giving away ballpark giveaways. We met a lot of our members and their families. Everyone had an amazing time. From the youngest fan to the most experienced baseball guru. If you missed the game this year, we highly encourage you to join us next year for an afternoon full of smiles, food, great conversations, and baseball!
About The Congressional Baseball Game
The game began as a casual game among colleagues in 1909. Representative John Tener of Pennsylvania was a former baseball player and decided to begin this tradition. This friendly competition has evolved into one of Congress's most anticipated annual events. Every summer, both Representatives and Senators donate baseball gear, come together as organized teams along party lines and have a good time on the field for charity. The Congressional Baseball Game has raised Millions of dollars for the District's (Washington D.C.) own charities. Spectators that you can find during the game are Members, congressional staffers and from time to time, U.S. Presidents. More than a century later, the Congressional Baseball Game each and every year, is an evening to remember.
Learn more about the history of the Congressional Baseball Game at www.congressionalbaseball.com
View all posts