U.S. Senate Federal Credit Union: End of year charitable donations to ALIVE!
Published: December 23, 2022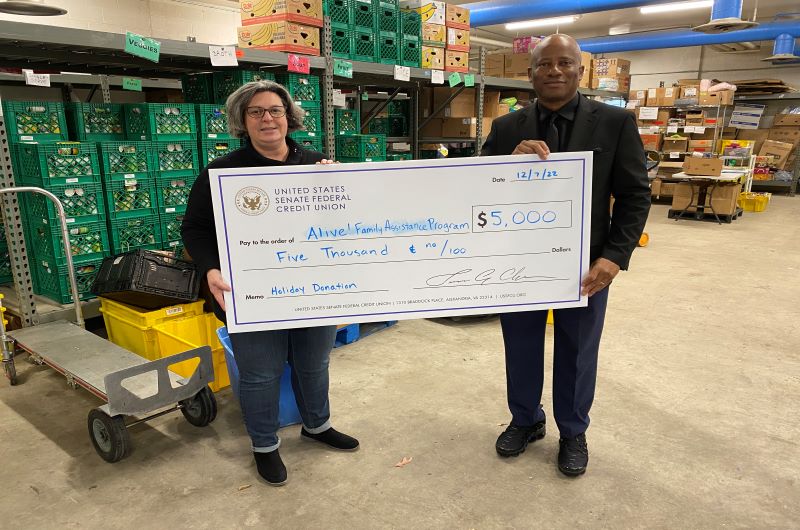 Donations to nonprofit organizations
Every year, during the holiday season, the United States Senate Federal Credit Union likes to make an impact in our local communities and help nonprofit organizations that focus on helping people, that may need a caring hand. This year was not an exception, and the top leadership decided to give a monetary donation to 6 groups, that primarily focus on providing services related to food pantries, shelters, and disaster relief programs. A total of $70,000 were granted to the selected institutions. Our CEO, Mr. Tim Anderson, accompanied by a group of USSFCU employees, personally delivered the news to each nonprofit.
ALIVE! - $5,000 donation
ALIVE! is a food program group that focuses on fighting hunger and poverty in Alexandria, Virginia. Founded in 1969 by 14 faith communities due to the raise of poverty and hunger in this area. An inclusive organization, ALIVE! has now expanded to 50 member congregations. Here are other facts that Karl Bach, representative at ALIVE! shared as well:
For more than 50 years, Alexandria families looking for a safety net have turned to ALIVE! for groceries, shelter, and emergency financial assistance for rent and other basic needs.

During the pandemic, ALIVE! saw a huge increase in the number of people seeking food assistance, and the need has not receded to pre-pandemic levels. Currently, ALIVE! distributes free groceries (produce, chicken, eggs, bread) to nearly 4,000 Alexandria families each month.

In addition to the team of volunteers from the faith community, ALIVE! regularly partners with local businesses, schools, neighborhood groups, and city departments to collect donations at food drives, to sort and prepare collected items, and to help distribute bags of groceries to neighbors in need.

But ALIVE! provides more than just food for people in need. ALIVE!'s volunteers and service navigators have helped to provide emergency funding to help families in crisis avoid eviction, pay for medical bills, and find temporary housing.

As our community continues to face the lingering challenges of the pandemic, financial contributions are vital to helping ALIVE! support our neighbor in need.
Please check them out at alive-inc.org
View all posts